Get Involved Now!
Get the most out of your membership in the Southwest Gwinnett Chamber by joining a committee now.
Meet and work with other chamber members to make a difference in our community and help Southwest Gwinnett County and your business grow.
Here are the contacts for each of the committees. Just click the name to send an email.
Support for existing Business:
Economic Redevelopment
Business Marketing
Arts and Education
Board of Directors
Chuck Paul
Chairman
Chuck moved to Gwinnett County in 1989 from Boston and lived in the Peachtree Corners area for over 20 years. In 2011 he moved to Historic downtown Norcross. Chuck's background is in the hospitality industry where he spent 25 + years with companies such as Steak and Ale, Holiday Inn, Houlihan's, and Grady's American Grill.
In 1994, Chuck founded A Closer Look, Inc., a feedback (Mystery Shopping) company. www.a-closer-look.com ACL is hired by many of the most respected companies in the U.S. where ACL 'measures' the brands they represent. His company currently works with: The Buckhead Life Group, The Capital Grille, Bahama Breeze, Hard Rock Cafes, Seasons 52, Marlow's Tavern, Hilton Hotels, and many others. ACL has over 200,000 qualified field agents who are ready to be the eyes and ears of the companies they represent.
Chuck was the President of the Norcross Business Association (2006-2008) and Chairman of the Norcross PDC (2009-2011). In 2011 Chuck completed the program at Sr. Leadership Gwinnett.


Brian Ballard
Vice-Chairman
Brian has been a pastoral leader since 1997. He previously served three congregations in North Carolina and has been at Christ the King in Peachtree Corners since 2011. He also trained with and worked for Morgan Stanley as a Financial Advisor.
Brian earned his undergraduate degree from Lenoir-Rhyne University in Hickory, NC. In 1997, he graduated from Lutheran Theological Southern Seminary in Columbia, SC, with a Masters of Divinity. He completed his Doctor of Ministry in Congregation Mission and Leadership at Luther Seminary in St. Paul, MN. In addition to leadership, Brian enjoys time with family and friends, traveling, and a great cup of dark roast coffee. In 1994, he married the love of his life, Carolyn. They have a son and a daughter who both excel at piano and competitive swimming. The whole family shares a passion for learning and a heart for local and global service.



Tanya Moore
Secretary
Tanya Moore has lived in Gwinnett County for over 25 years, 16 of which were spent in Peachtree Corners and the last 2 years in Historic Norcross. Tanya is originally from Chattanooga, Tennessee but went to college and started her career in Miami before being transferred to the Atlanta area with Federated Department Stores, later to become Macy's. She worked in a variety of merchandising and systems design areas with Macy's before retired in August 2013 after 33 years of service.
While in Peachtree Corners, Tanya was a Girl Scout Leader for many years and served in various positions on her subdivision's HOA Board. Tanya loves now living in Downtown Norcross where she volunteers with many civic and arts-related organizations. She is on the Norcross ArtsFest Committee, works with the Norcross Cluster Schools Partnership and was recently appointed to the Norcross Downtown Development Authority (DDA). Tanya is currently a member of the 2013-2014 class of Senior Leadership Gwinnett.
Tanya and her husband of 25 years, Buck, have one daughter who attends the University of Georgia in the pre-Veterinary program.
Marian Adeimy
Support for Existing Business co-Chair

Marian Adeimy is a litigation, zoning, and local government attorney with Andersen, Tate & Carr, P.C. (www.atclawfirm.com). Marian grew up in Peachtree Corners and is a proud graduate of Norcross High School.
Marian graduated cum laude from the University of Georgia and obtained her law degree from Georgia State University, where she served as a Land Use & Urban Fellow. Marian represents individuals, property owners, small businesses, banks and developers in real estate and business disputes, zonings, eminent domain and condemnations, foreclosure litigation, collections, homeowners' association matters, and landlord/tenant disputes.
Marian is also an active member of the Council for Quality Growth, promoting quality development throughout Atlanta. She is a Board Member for the Gwinnett Community Alliance and a member of the Junior League of Dekalb County. She is a member of Buckhead Church and enjoys tennis and painting in her free time. Marian and her husband live in Dunwoody.
Don Allen
Don Allen has thirty five years' experience as a professional engineer and business executive. Don served as President and CEO of Jordan Jones & Goulding (JJG) from 1995 – 2010. JJG was a southeast regional consulting engineering firm headquartered in Norcross. During his career, Don was active in numerous professional and civic organizations, serving as President of both the Georgia Association of Water Professionals and the American Council of Engineering Companies of Georgia. Don was also a member of the inaugural class of the Institute for Georgia Environmental Leadership.
Don graduated from Purdue University with a BS in Engineering and obtained a Master's degree in Environmental Engineering from the University of California at Berkeley. He resides in Berkeley Lake with his wife Sheila and has two children and four grandsons who all live in the Atlanta area.


Bill Brown
Marketing Committee co-Chair
After over 40 years in sales and marketing, Bill recently retired and turned his attention back to independent consulting projects and volunteer work. During his career, he worked at Nextel, Sprint, Apple Computer, several entrepreneurial startups, and for 14 years was Vice President, Marketing and Sales at a design firm specializing in creating corporate identity, corporate communications and customer relationship strategies for a variety of Fortune 1000 companies.

Bill grew up in a military family living in a variety of countries and cultures. After graduating from The University of Texas in Austin he joined a photographic equipment sales company and spent time in Chicago, Florida, and then settled in Norcross. Bill is married to Jill Swenson and along with their golden retriever, live in Norcross. He is actively involved with Lionheart Theater, acting and building sets. He and Jill are storytellers; he is on the Board of Directors of the Southern order of Storytellers; and he recently became a member of the International Brotherhood of Real Bearded Santas.


John Colgrove
A Dave Ramsey Endorsed Local Provider (ELP) for Investing, John Colegrove has been providing hometown investment advice to Georgia families and small businesses since 2001. He helps clients create successful retirement outcomes and provides a personalized financial homepage for clients to help monitor goals and progress.
John is a long-time resident of the great state of Georgia and has been married for 18 years. His wife, Ruthie, is the Middle School Band Director at the Wesleyan School in Norcross. John and Ruthie have two children. Active in the community, he has served on various Boards of Directors, most recently helping to raise funds to build the new UGA Redcoat Band practice complex.
Prior to his financial planning career, John Colegrove was a music educator and professional musician. He still enjoys playing the trombone and has performed with many ensembles over the years, notably the Manhattan Transfer, the South Bend Symphony Orchestra, solo performances with the Notre Dame Concert Band, and other local concert bands, marching bands, and orchestras.
Kim Dorough
Arts & Education Committee Chair

Kim grew up in Texas, Oklahoma, Arkansas and Missouri, graduating from the University of Missouri – Columbia. After working for several years in the office furniture industry, she created and ran an interior architecture business for 20+ years. Closing the business in 2001, she directed construction project management for Bank of America. She moved from that role to direct a turn-around for a large warehousing and logistics business in the Norcross area. Following "the great recession" of 2008-2009, Kim worked as Operations Manager of First Community Development, a company owned by her husband, Steve, in the Norcross / Peachtree Corners area.
Since then, she's become involved in Norcross / Peachtree Corners activities, focusing on business and community support for education through the Norcross Cluster Schools Partnership along with fellow Board member, Ranae Heaven of Heaven and Associates. Kim is also actively involved with the Norcross Cooperative Ministry, focused on strategic planning, development and community relations. Breakthrough Norcross!, a collaborative education initiative, is her newest impact project with the goal of improving the economic prosperity of the geography that feeds into the local high school. Go Blue Devils!
Kim lives in Peachtree Corners with her husband, Steve. They have five children, seven grandchildren, and two greyhounds.
Steve Dorough
Economic Redevelopment Committee Chair

Steve Dorough has twenty-three years of professional fundraising experience for corporate driven non-profit organizations such as Chambers of Commerce, Economic Development Authorities and Downtown Revitalization Groups. In addition to fundraising, Steve has extensive skills in Strategic Planning and Feasibility Analysis. He began his career in Birmingham, Alabama, working for the Methodist Church and the Birmingham Area Chamber of Commerce before launching a commercial real estate business. In 1989, Steve moved to Atlanta where he began his career in fundraising, working first as a Senior Vice President with National Community Development Services before establishing his own company, First Community Development. Over the last twenty years, First Community Development has become a leader in innovative fundraising for corporate driven non-profit organizations in nine southeastern states. First Community has raised in excess of $250 Million for its non-profit clients.
Steve attended school in Birmingham and graduated from Birmingham-Southern College with a degree in Public Speaking. Steve is involved with the Georgia Association of Chamber of Commerce Executives, the Economic Developers Association of Alabama and the Mississippi Economic Development Council. Steve is a member of the Simpsonwood United Methodist Church and active with the Norcross Cooperative Ministry. Steve and his wife Kim have five children and seven grandchildren. They live with their two greyhounds, Dixie and Dash, in Peachtree Corners.
Ranae Heaven
Ranae Heaven has had her own accounting practice in the Norcross-Peachtree Corners area for 21 years, Heaven & Associates, PC. She has been in public accounting since 1984. She and her staff have worked with hundreds of business owners over the years doing tax planning, business consulting and accounting services.
Ranae is originally from Alabama and a graduate of the University of Alabama in Huntsville. In addition, she has a Master of Taxation from Georgia State University. She has lived in Gwinnett County since 1982. She has two sons Zachary and Jacob, who attended schools in Norcross and Duluth. She and her husband, Gene Ramsay, live in Norcross.
Ranae is a past president of the Georgia chapter of the American Women's Society of CPA's and is an active member of the Georgia Society of CPA's and the American Society of CPA's. She is on the board of the Norcross Cluster Schools Partnership and Norcross Business Association and a member of the Peachtree Corners Business Association. Ranae serves as Treasurer on the Board of the Southwest Gwinnett Chamber of Commerce.
Yarden Hixson
Marketing Committee co-Chair
Yarden Hixson is the Campus Director of Brenau University's North Atlanta Campus in Norcross. She is an active member of the Peachtree Corners Rotary Club and currently serves on their Board of Directors. Yarden is also a part of other local community groups such as the Breakthrough Norcross Initiative and the Progressive Development Committee.

Yarden has an Associate's of Arts in Psychology, a Bachelor's of Arts in Communication, and is currently working towards a Master's of Science degree in Occupational Therapy at Brenau University. Yarden and her husband, Andrew, live in Norcross, Georgia with their "fur kids." Yarden is passionate about hard work, service, and the community.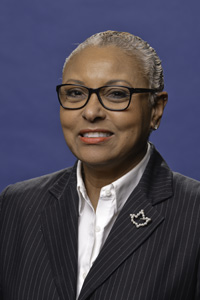 Dorothy Parker Jarrett
Dorothy Parker Jarrett is starting her fifth year as principal of Summerour Middle School located in Norcross. The veteran educator joined Gwinnett County Public Schools in 2002 as a teacher at South Gwinnett High School after serving schools in DeKalb County and District 99 in Illinois. She also served South Gwinnett High as an assistant principal (2004-2009) before being named principal of Summerour Middle in 2009. A graduate of the school district's 2007 Quality-Plus Leader Academy, Aspiring Principal Program, Mrs. Parker Jarrett holds certification in Leadership and Supervision from the University of Georgia. She earned her bachelor's degree in Home Economic/Merchandising from Western Michigan University, and a master's degree in Special Education from Benedictine University. Mrs. Parker Jarrett was recently named 2012 National Counseling Advocate of the Year by the American School Counselors Association.
She and her husband, Kenneth, have two children. JR is married and lives with his wife, Sarah, in London with their three children. Parker is a junior in high school.


Nancy Minor
Nancy Minor is a long time resident of Peachtree Corners. She was born in Birmingham, Alabama and graduated from University of Montevallo. She has a long family allegiance to the University of Alabama (Roll Tide). After graduation from college Nancy moved to Atlanta to begin her teaching career. After four years of teaching Nancy's husband Sid was transferred to Chicago. Nancy and her family lived there for eight years and then decided to return to the sunny south.

Nancy is a Realtor and is the Team leader of The Nancy Minor Team, the undisputed top residential real estate team in Peachtree Corners for over 20 years. Nancy's team is one of top in the state and her passion is helping people solve real estate problems.

Nancy is a graduate of Leadership Gwinnett. She has been a volunteer for several years at the Robert Fowler YMCA in Peachtree Corners and was named Volunteer of the Year in 2008. She has served as Chairman of the board of directors and continues to serve on the Y's board. Nancy also supports local schools and has a coat and food drive for Norcross COOP each year.

Nancy's joy comes from being with family and friends, Being a wife, Mom and Grandmommy gives her life purpose and all are the motivation for her success in her business.She has two sons and four granddaughters and has been married to her husband Sid for almost 40 years. When not with family and friends, Nancy can be found behind a good book or watching her Crimson Tide football games. Nancy also follows Norcross football and Basketball and cheers for the local high schools.

Nancy writes a regular real estate column in the Peachtree Corners Patch, an AOL Company online community news provider.
Charlie Riehm
Arts & Education Committee Chair

Charlie Riehm is a Norcross City Councilman, a former Board member of the Downtown Development Authority and a 16-year resident of Norcross, Georgia. Charlie has held senior management positions in engineering, marketing, and manufacturing operations and continues to be active as a professional day trader on a part-time basis. He has also served as an officer in the U.S. Navy.
He has been an "activist" in addressing Norcross issues for the past 12 years and has served on the city council for the past eight years. Charlie is currently active in forming the Southwest Gwinnett Chamber of Commerce and helping expand the arts in the Berkeley Lake, Norcross and Peachtree Corners area. He is a founder and currently Treasurer of the Norcross Arts Alliance. He and his wife, Edie, live in Norcross.



Luke Snider
Support for Existing Business co-Chair
Luke joined the Snider Team at Merrill Lynch in 2009 after graduating from Georgia Tech. The Snider Team works with families to oversee every aspect of their finances from retirement planning, investing, and banking. Luke is a successful graduate of Merrill Lynch's PMD program and serves as a mentor to others in the program.
Luke was born and raised in Peachtree Corners attending local public schools including Simpson Elementary, Pinckneyville Middle and graduating from Norcross High School. He then went Midtown to Georgia Tech where he graduated with honors in three years and played football for Coaches Gailey and Johnson. Luke is a big sports and avid football fan. Luke married his high school sweet heart in 2011. They currently live and work in Duluth. Both Luke and his wife are active in Gwinnett Church working in student activities.


Sheri Snyder
Sheri Snyder is the co-owner of Objet d'Art Gallery & Studios in Peachtree Corners, where she teaches art to adults and children, as well as offers the art from 60 local artists for sale in her gallery and studios. A retired Art Director and a veteran of the U.S. Army, Sheri has worked for award-winning international advertising agencies and publishing companies. She has a degree in fine art and is an accomplished ceramic and glass artist. Sheri has lived in 5 states and Germany before moving to Gwinnett County 21 years ago, where she now calls home.
Mark Thornell
Mark's twenty-year career with the YMCA began as the teen and camp assistant director at the Boise (Idaho) Family YMCA. He has worked at Y's in Savannah, GA.; Birmingham, AL.; and Port Orange, FL. Most recently, he was the Northeast District Executive Director of the YMCA of Greater Louisville in Kentucky. At the Northeast Family Y, Mark increased contributions to the annual campaign, focused on board development and recruitment, provided staff leadership and implemented community-based, purpose-driven programs. A corner store in one Y offers fresh fruits, vegetables and grocery items to nearby, underserved residents. He also initiated a year-round swim team and a teen cross-country program that competes with area schools.
Mark was born in Bangkok, Thailand, and spent his early years in Burnsville, Minnesota. He graduated from Norcross High School and Georgia Southern University with a bachelor's degree in recreation, so he considers Georgia home. He and his wife, Kristen, have been married sixteen years and have a ten-year-old daughter, Andrea. Mark's hobbies include hiking, kayaking, camping and golf.


Gordon C. Tomlinson
Gordon C. Tomlinson was born in Jamaica, West Indies where he spent his early childhood. He pursued his undergraduate studies at the University of Georgia where he earned a Bachelor of Science Degree in Statistics. In 1999 he received his Juris Doctorate in 1999 from The Cumberland School of Law at Samford University in Birmingham, Alabama. Gordon is an accomplished Georgia licensed attorney with over thirteen years of significant experience representing corporate and individual clients in all facets of civil and commercial litigation, including two and one-half years as staff attorney with UAW Legal: Daimler Chrysler-Ford-GM.
In June 2009, Gordon opened his own general practice law firm in Historic Downtown Norcross. As a resident of the City of Norcross, Gordon is active in the community where he currently serves
as chair of the Progressive Development Committee (PDC), a civic organization. The PDC meets every Wednesday at 45 South Café in downtown Norcross to discuss local and regional issues affecting the City of Norcross and Gwinnett County."


Terry Tucker
As Chief Operations Officer, Terry Tucker manages all operational aspects of the Georgia Center for Opportunity. He has previously served as a consultant at firms including Coopers-Lybrand (Now Price Waterhouse Coopers), Ernst & Young, and the international law firm of Troutman Sanders. Prior to joining GCO, he served as Executive Director of The Sullivan Center, focusing on poverty prevention and self-sufficiency through financial planning, education, lifestyle classes and employment counseling.

Terry is a member of both the American and Georgia Bar Associations and is admitted to practice law in all Georgia Courts. He has served on boards of Duke University's Fuqua School of Business, Duke University's School of Law, City of Refuge, Arete Scholars, The American Association of Gifted Children and the United Way Young Professionals.

Terry earned his B.A. degree with honors from Troy University and his M.B.A. from Duke University's Fuqua School of Business. He later earned a J.D. degree from Duke University's School of Law. He lives in Peachtree Corners with his three sons.
Tracy Williams
Support for Existing Business co-Chair
Tracy Williams is a Market President and task force leader in the Metro Atlanta region for State Bank & Trust, a $2.6 billion community bank. He previously worked as an SVP at Wells Fargo Bank, N.A. and Wachovia Bank, N.A. in their commercial and investment banking divisions. Mr. Williams has been an investor or owner/operator in several companies including Estate One Mortgage Corporation and Susan's Coffee & Tea. He was also a long-term contract CFO and consultant working with start-up and turn-around entities in the software and quick service sectors. His finance career started at Key Bank where he worked as an analyst, ultimately landing a position as an associate in Key Equity Capital, the bank's leveraged buyout arm. As a sales professional Tracy held positions as both an inside an outside sales representative with Proctor & Gamble and Cargill Corporation.
Mr. Williams is a graduate of Florida A&M University and holds a BBA with concentrations in marketing and accounting and an MBA in management and finance. He is currently a Certified Treasury Professional and has completed Wharton School of Business' Executive Mergers & Acquisitions program. Mr. Williams is a former Military Policeman with the United States Army Reserves. His current or previous board appointments include the American Lung Association of Georgia, Georgia Goal, and The Urban League of Greater Atlanta. He is an active member of Northpoint Community Church in Alpharetta where he has volunteered in their youth program. Tracy is married and has four children and three cats.
---
Contact Information